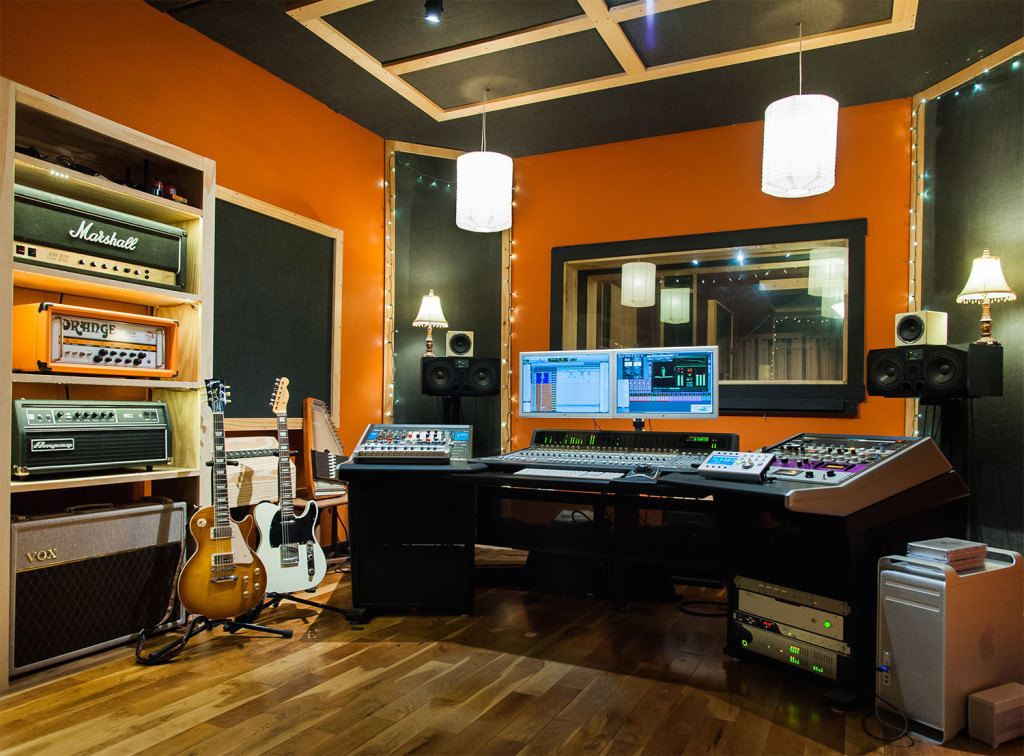 Studio A is the flagship for our vision, a 2,500 sf studio designed for the purpose of tracking and overdubbing live ensembles. Comprised of Control, Live, and Isolation Rooms 1 & 2, Studio A is a beautiful marriage of form and function. An uncompromised creative world crackling with a limitless sense of possibilities.
The culmination of artisan acoustic design and real world execution. The main performance space can accommodate a full band, and there's ample isolation, with speaker and tie lines connecting every room. The control room is based around a Pro Tools HD system with lots of inputs. The analog front end features preamps and equalizers from API, Aurora, Daking, Chandler, A Designs and Purple. Analog dynamics are SSL, Daking, Empirical labs, Purple and Universal Audio. (Our analog outboard frequently gets used during mix as well.)
Monitoring is via a pair of ADAM S3A and a Focal sub, driven by a newly commissioned Grace M905 controller, which functions as the main D-A for the room. A pair of Avantone Mixcubes is used for secondary reference. We recently had Francis Manzella pay a visit to tune the room and optimize frequency response. Microphones are by David Bock, Royer, Coles, Gefell, and AKG, as well as the usual suspects for dynamic and utility microphones. The studio also houses Wyman and Elder's collection of vintage and modern instruments and amplifiers.

A stable of well-maintained electric and acoustic guitars get paired with amplifiers from Marshall, Vox, Orange, Fender and Mesa. Vintage keyboards included a modified Hammond CV with a Leslie 122, Rhodes 73 Mk I, Wurlitzer EP200A, and a vintage upright piano. An arsenal of vintage and modern classic drum sets from Rogers, Slingerland, Ludwig, Yamaha, Risen, and more provide a diverse pallet along side a trove of go-to Signature Edition Paiste, and classic Custom Zildjian Cymbals.